Solidarity in times of a pandemic: What do people do, and why?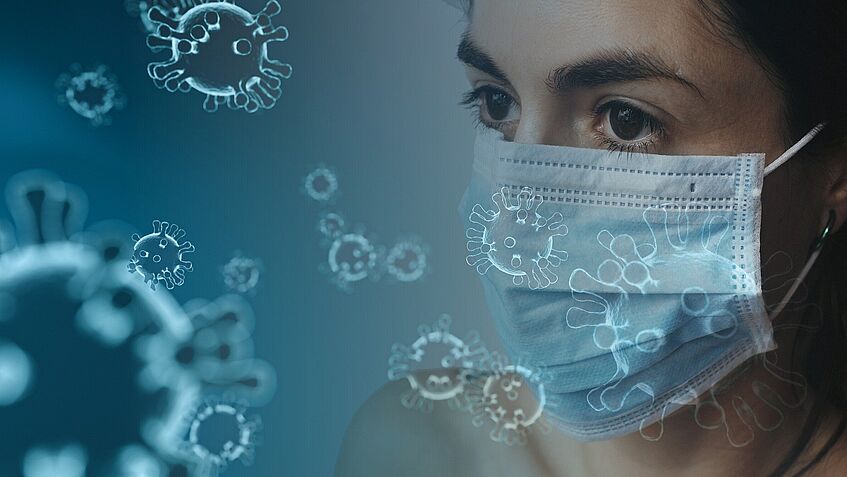 Solidarity in times of a pandemic: What do people do, and why?
COVID-19: How does it affect you?
A comparative and longitudinal qualitative study
Here you can find out more about our study "Solidarity in times of a pandemic. What do people do and why?" (SolPan) that is embedded into the interdisciplinary Research Platform "Governance of digital practices"!
The project examines diverse important questions regarding the pandemic situation in different European as well as non-European countries, e.g. the importance of digital practices such as home office working, but also the proliferation of contact tracing applications as a policy instrument in tackling the COVID-19 pandemic.
WHAT IS SOLPAN?
The COVID-19 pandemic poses unprecedented challenges for policymakers, public health officials, and societies. The social and economic effects are likely to be felt for years to come. This situation calls for an examination of how people react to policy measures that have been introduced, and what actions they take on their own initiative over and above the official advice by governments. What motivates citizens to follow, adapt to, or ignore, the advice of public authorities? What do they do to protect themselves, and to support others – and what roles do technologies play in this? What, or who, do people trust in these uncertain times? What do people need to feel safe at the time of crisis?
The project examines these important questions in nine different European countries, including Austria, Belgium, France, Germany, Ireland, Italy, the Netherlands, Switzerland and the United Kingdom. We use a multi-sited qualitative research design involving in-depth open-ended interviews.
This qualitative longitudinal study design involving 'soft comparisons' between countries and over a period of about six months allows us not only to identify differences and similarities in how people responded to the pandemic and the ensuing policy measures, but also why. These findings are expected to generate valuable evidence for policies for pandemic preparedness, prevention and containment in the countries under study, and beyond.
WHAT IS SOLPAN+? (EN)
SolPan+ is part of the larger SolPan consortium. While SolPan initially comprised research teams in nine European countries, SolPan+ partners are regional consortia that expand the SolPan project to wider world regions to foster a better understanding of how local conditions, political and social factors, and other nation- and region-specific conditions influence people´s experiences during the pandemic. Moreover, the diverse geographical and demographic contexts that are now represented in the SolPan consortium enable us to explore how different availability of, and access to, public services, as well as different configurations and conditions of inequality, affect the capacity to adapt and mitigate the impacts of the COVID-19 crisis. Using a qualitative and inductive methodology and data collection instruments specific to each region, we can generate data that are both comparative across national and regional contexts as well as specific to local specificities.
Contact
If you have questions about the SolPan project in general, please contact the project leads:
Barbara Prainsack, Department of Political Science, University of Vienna: barbara.prainsack@univie.ac.at
Katharina Kieslich, Department of Political Science, University of Vienna: katharina.kieslich@univie.ac.at
For other project partners of SolPan click here.
If you have questions about research carried out by our SolPan+ partners, please contact the SolPan+ Latin America Lead:
Isabella Radhuber, Research Network Latin America, Department of Political Science, University of Vienna, isabella.radhuber@univie.ac.at
For other project partners of SolPan+ click here.
¿QUÉ ES SOLPAN+? (ES)
SolPan+ es parte del consorcio más grande del proyecto SolPan. Si bien SolPan comprendía inicialmente equipos de investigación en nueve países europeos, los asociados de SolPan+ son consorcios regionales que amplían el proyecto SolPan a regiones del mundo más amplias para fomentar una mejor comprensión de la forma en que las condiciones locales, los factores políticos y sociales y otras condiciones específicas de la nación y la región influyen en las experiencias de las personas durante la pandemia. Además, los diversos contextos geográficos y demográficos que están ahora representados en el consorcio SolPan nos permiten explorar la forma en que las diferentes disponibilidades de los servicios públicos y su acceso a ellos, así como las diferentes configuraciones y condiciones de desigualdad, afectan a la capacidad de adaptación y mitigación de los efectos de la crisis de COVID-19. Utilizando una metodología cualitativa e inductiva e instrumentos de colección de datos específicos para cada región, podemos generar datos que son a la vez comparativos entre los contextos nacionales y regionales y específicos de las especificidades locales.
Contacto
Si tiene preguntas sobre el proyecto SolPan en general, por favor contacte:
Barbara Prainsack, Departamento de Ciencias Políticas, Universidad de Viena: barbara.prainsack@univie.ac.at
Katharina Kieslich, Departamento de Ciencias Políticas, Universidad de Viena: katharina.kieslich@univie.ac.at
Para otros socios del proyecto SolPan, véase este enlace: https://digigov.univie.ac.at/solidarity-in-times-of-a-pandemic-solpan/solpan/team-solpan/
Si tiene preguntas sobre la investigación llevada a cabo por nuestros socios de SolPan+, por favor contacte la dirección de SolPan+ para América Latina:
Isabella Radhuber, Red de Investigación América Latina - Departamento de Ciencias Políticas, Universidad de Viena, isabella.radhuber@univie.ac.at
Para otros socios del proyecto SolPan+, véase este enlace: https://digigov.univie.ac.at/solidarity-in-times-of-a-pandemic-solpan/solpan-latin-america/team/